Garbage is not a topic that many of us think about on a regular basis. Waste as an industry, when done correctly, gets little fanfare.
However, the power and durability of a refuse truck is the backbone of the collection and transportation of waste. Though waste may not always make prime time news, the technologies that help with waste management have made great strides, and now Cummins is pushing it even further by providing fuel cells for some of the first licensed and commercially operational fuel cell refuse trucks in Europe.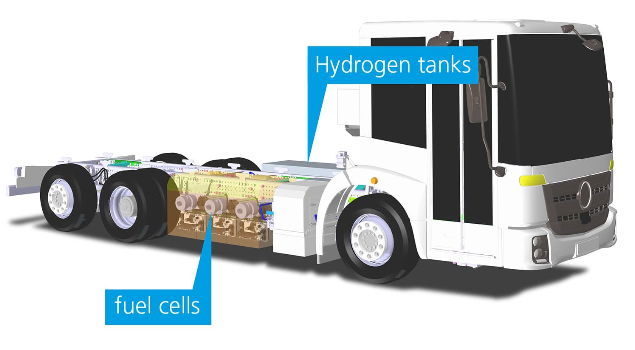 In partnership with leading European truck manufacturers, system integrators, waste management fleet operators and hydrogen infrastructure providers, Cummins is aiding in the development of fuel cell electric heavy-duty refuse trucks for the European market. To date, Cummins has provided more than 20 fuel cell power modules, often referred to as fuel cell "engines," to a range of truck builders across Europe.
Cummins recently supplied fuel cells for FAUN, a leader in waste collection vehicles and sweepers in Europe, for their electric refuse truck program. Each truck has 100% electric drive and is 100% emissions-free with a range of up to 560 km, which is enough to run the collection route multiple times carrying 10 tons of waste.
In addition to the electric motor and batteries, fuel cells are used to extend the range of the truck. Each truck contains three fuel cells – the number is determined by route requirements – with an output of up to 30kW per cell. Each truck has up to six hydrogen tanks, each with a capacity of four kilograms of hydrogen. The total weight of each vehicle is equal to that of a refuse truck equipped with a conventional engine, meaning payload is the same. These trucks will soon be on the road in multiple towns across Germany.
Providing zero-emissions and noise reduction are some of the benefits of fuel cell technologies, benefits that are vital when operating in densely populated urban areas with strict emissions regulations. Proving technology viability means refuse trucks act as a persuasive first mover for other government vehicles, like buses and applications where current battery technology is not able to handle all requirements for heavier vehicles and longer ranges. As a result, in early spring, Cummins joined 43 other companies and pledged their support for the 'Joint call for the deployment of hydrogen fuel cell trucks' in Europe.
With the help of Cummins technology waste just got a little bit cleaner.
With more than 2,000 fuel cell systems in operation already, we're excited to see what's next!
Source: Cummins
Read the most up to date Fuel Cell and Hydrogen Industry news at FuelCellsWorks