On July 17, 2020 in Toulouse, Qair Premier Elément, a subsidiary of the Qair group, and AREC Occitanie, signed the creation of the Hyd'Occ project company, which materializes a commitment made in 2019 to contribute to the solutions of zero-emission mobility, particularly in road freight transport, in the face of climatic challenges in Occitania.
Hyd'Occ will be in charge of building a green hydrogen production plant with a capacity of 6,000 t / year by electrolysis of water (50MW in the long term) supplied with green electricity (regional) and of supplying the Lourdes Mobilities uses (Maritime, Land, River, Rail), Industrial and Generation of electricity.
The production unit will be built in Port-la-Nouvelle, thus enabling the Territory to be a pillar of the energy transition (60,000 t of CO2 avoided per year) and to contribute to the "positive energy region" strategy of the region. Occitanie region. Hyd'Occ is recognized as a "Project of great ambition: LITTORAL +" and is part of the Green Hydrogen Plan of the Occitanie Region, which aims to produce and deploy green hydrogen on a large scale over the next decade.
Cooperative and citizen renewable energies in Occitania: a pioneering and ambitious region!
n 2014, the Region and ADEME launched a first call for "cooperative and citizen renewable energies" projects to support local initiatives. After 4 successive calls for projects, it appeared necessary to evaluate this aid mechanism. To this end, a study was carried out in 2019, carried out as joint project management by the Occitanie Region and ADEME and managed by AREC Occitanie.
This study has three main objectives:
on the one hand, to carry out an assessment of 5 years of support for setting up projects and draw up an assessment of the socio-economic impacts (direct or indirect),
then to assess the support system: its relevance, consistency, and effectiveness; to question the performance of this public action
and on the other hand to identify the conditions for an ambitious development of this sector on a regional scale, in a logic of perpetuation of this mode of project governance.
Thus, in 5 years, 46 laureates have benefited from technical and financial support to develop their project. They represent 50% of project leaders in Occitania. The regional mechanism appears to be relevant and coherent in its modalities to meet the needs of project leaders.
In addition to their energy production, EnRCC projects generate local economic and societal benefits. The 39 successful project promoters * could generate 66 million euros in local economic benefits and raise awareness among more than 50,000 people.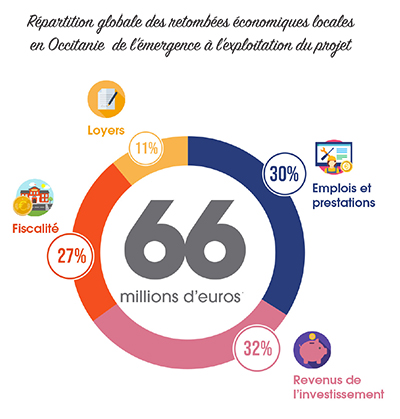 Today, the Occitanie Region wishes to go further and has set itself the objective of 500 EnRCC projects and 1,00,000 shareholder-citizens by 2030. To this end, the Region has embarked on the development of an operational and strategic roadmap.
Source: AREC