Manchester Fuel Cell Innovation Centre continue to support Net Zero ambitions in the region
A new partnership aims to support ambitions for Greater Manchester to become the first Net Zero region in the world by 2040, with the planned installation of the city's first low-carbon hydrogen hub.
For the first time, sustainable hydrogen fuel will be produced at scale in the region, creating opportunities for businesses in the area to make Net Zero plans with hydrogen in mind.
The collaboration comes after the UK Government set out its 10-point plan for a green revolution and included hydrogen and fuel cell technology as one of its key ambitions.
Manchester Metropolitan University, Greater Manchester Combined Authority (GMCA), Trafford Council, Carlton Power, Cadent Gas and Electricity North West will be joining forces to set up the hub, which will be a new addition to Trafford Low Carbon Energy Park – a green energy storage facility, which already consists of a number of Net Zero industrial projects in support of UK Government objectives.
Trafford Low Carbon Energy Park, which has been developed and is owned by Carlton Power, is the first of its kind in the UK and includes one of Europe's largest energy storage facilities based on liquid air storage.
The facility aims to help integrate renewable energy on a regional scale through the storage of solar and wind energy, and now through the production and storage of hydrogen.
Cllr Andrew Western, GMCA Lead for the Green City-Region, said: "The question of how we generate, transport, and use energy is absolutely fundamental to addressing the climate emergency, and this hydrogen hub is one of the ways we're answering that question here in Greater Manchester.
"We need an urgent and significant increase in more renewable energy sources to cut emissions and meet our target of becoming carbon neutral by 2038. This hydrogen hub has the potential to set the standard for decarbonised energy generation across the North West and put us at the forefront of a UK revolution in clean energy and sustainable industry."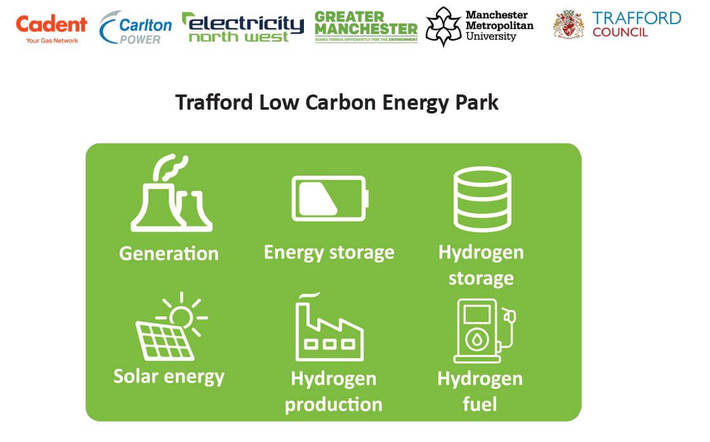 Amer Gaffar, Director of the Manchester Fuel Cell Innovation Centre, added: "We will be offering businesses the opportunity to connect with leading researchers at the University as well as experts from this exciting new micro-cluster at Trafford Low Carbon Energy Park, in order to fully maximise the potential for hydrogen in their business.
"Through this new collaboration and by bringing together the expertise from each of our partners, we have the potential to accelerate the work already being done at Trafford Low Carbon Energy Park, whilst also supporting the development of new opportunities in infrastructure, skills and the supply chain, specifically for hydrogen production."
Keith Clarke, Chief Executive of Carlton Power, said: "We're delighted to be working with key regional partners to bring forward a unique facility, which will help decarbonisation efforts and the path to Net Zero by 2040 in the Greater Manchester region.
"It is critical that projects such as this are brought forward to enable investment by local companies in the infrastructure to enable reduction in the carbon emissions associated with their operations."
The consortium, which has signed a Memorandum of Understanding, will combine its expertise in industry, research, policy, skills and innovation to develop a solution for low carbon hydrogen production and storage, with the potential for the hub to be used by industry, for vehicle refuelling and residential heating.
Manchester Metropolitan University's Fuel Cell Innovation Centre – a £4 million facility dedicated to the development of renewable energy through research in hydrogen and fuel cell technology – will be helping to develop the skills and supply chains associated with the project and bring the research expertise required to maximise the potential of the new development.
Net Zero involves achieving a balance between the amount of greenhouse gas emissions produced and removing the equivalent amount of greenhouse gases from the atmosphere.
Cadent Gas will bring additional expertise as the company is already working on a project to develop the UK's first hydrogen pipeline – which will supply hydrogen through the national grid – and Electricity North West is able to provide valuable insight into the existing power system networks.
Next steps for the project include identifying businesses that could potentially use hydrogen in their operations, including those with transport fleets or heating requirements. For more information, contact: [email protected].
Read the most up to date Fuel Cell and Hydrogen Industry news at FuelCellsWorks