Tokyo— Kawasaki Heavy Industries, Ltd. announced today the installation of a liquefied hydrogen storage tank for marine transport applications on the world's first liquefied hydrogen carrier SUISO FRONTIER. Installation was carried out at Harima Works on March 7.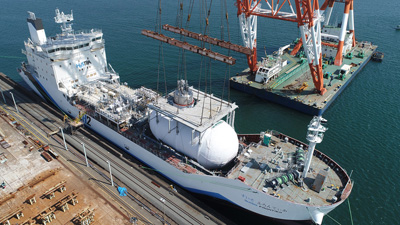 The company will complete piping installation and other outfitting operations for the vessel at Kobe Works, with ship completion scheduled for October 2020. Once complete, the SUISO FRONTIER will undergo operational testing in the coastal waters of Japan, then it will be used for technology demonstration testing*1 in Japanese FY 2020 aimed at the establishment of an international hydrogen energy supply chain in which liquefied hydrogen produced in Australia will be shipped to Japan.
This liquefied hydrogen storage tank was developed with the goal of providing a means of transporting liquefied hydrogen at 1/800 of its original gas-state volume, cooled to –253°C, safely and in large quantities over long distances by sea. It features a double-shell structure with vacuum insulation between the overlapping inner and outer shell layers. Furthermore, the inner-tank supports are made of glass-fiber-reinforced plastic, which is also used in applications such as helicopter rotor blades and boasts high strength along with properties enabling thermal conduction suppression. Kawasaki utilized its experience and knowledge in cryogenic equipment manufacturing, accumulated through the building of equipment such as onshore liquefied hydrogen storage tanks and liquefied natural gas (LNG) storage tanks, to achieve ultra-high thermal insulation performance.
As part of efforts aimed at the achievement of sustainable development goals (SDGs), Kawasaki has been carrying out development projects in every phase including production, storage, transportation, and utilization, with the goal of realizing a Hydrogen Society. By continuing to build liquefied hydrogen carriers in safe and steady fashion, Kawasaki hopes to make its vision of a Hydrogen Society happen.
Reference
With the goal of making hydrogen just as common a fuel source as petroleum and natural gas, Kawasaki joined together in 2016 with Iwatani Corporation (Iwatani), Shell Japan Limited, and Electric Power Development Co., Ltd. (J-POWER) to form the CO2-free Hydrogen Energy Supply-chain Technology Research Association (HySTRA).*2 This organization is, with the support of NEDO,*3 pursuing technological development aimed at building an energy supply chain enabling economical and reliable sourcing of hydrogen in large volumes.
In addition to this latest liquefied hydrogen carrier, a liquefied hydrogen unloading terminal is being built in Kobe City, Hyogo Prefecture, and a brown coal gasification facility is being constructed in Australia.
Furthermore, a consortium*4 comprising Kawasaki, Iwatani and J-POWER along with Marubeni Corporation and AGL Loy Yang Pty Ltd, was formed in 2018 and has received financial support from the Australian and Victorian governments to build a gas refining facility for the production of pure hydrogen, hydrogen liquefaction and loading terminal and more.
| | |
| --- | --- |
| *1 | Planned implementation as part of NEDO's Demonstration Project for Establishment of Mass Hydrogen Marine Transportation Supply Chain Derived from Unused Brown Coal. |
| *2 | Founded for technology development and demonstration comprised of everything from hydrogen production with effective use of brown coal through to transportation and storage, aiming at the realization and commercialization of CO2-free hydrogen supply chain. Marubeni Corporation joined HySTRA as a new member in 2018, followed by JXTG Nippon Oil & Energy Corporation in August 2019 and Kawasaki Kisen Kaisha, Ltd. ("K" Line) in December 2019. |
| *3 | New Energy and Industrial Technology Development Organization. |
| *4 | Sumitomo Corporation joined as a new member in October 2019. |
Read the most up to date Fuel Cell and Hydrogen Industry news at FuelCellsWorks