Avions Mauboussin, an aircraft manufacturer based in Belfort (France) since 2017, is developing the first generation of hybrid hydrogen-fuelled aircraft.
The French manufacturer is reviving the legendary aviation brand of the 1930s founded by Pierre Mauboussin, with two programs: Alérion M1h, a light two-seater, and Alcyon M3c, a six-seater.
The objective is to allow sustainable inter-city mobility and access to areas currently closed to conventional aircraft, using clean and silent short take-off and landing (STOL*) aircraft, to operate as close as possible to the desired destinations and from reduced infrastructures.
The name Pierre Mauboussin, an aircraft manufacturer of the 1930s, represents the innovative spirit of French aviation. His planes broke endurance and speed records. Hélène Boucher and Maryse Hilsz took part in competitions and broke several records at the controls of their Corsaire. The planes were renowned for their energy efficiency, thanks to highly improved aerodynamics combined with a modest engine. The son of the famous jeweller was also the designer of the Fouga Magister military training jet.
David Gallezot, the founder of the new Avions Mauboussin, wanted to revive the brand that is synonymous with innovation and avant-garde thinking. "In 1928 Pierre Mauboussin founded Avions Mauboussin to make aviation accessible to more people; today Avions Mauboussin is being reinvented to bring accessibility to the regions with the sustainable aviation of the 21st century" he said.
Sustainable air mobility
Building on this pioneering heritage, Avions Mauboussin is designing the next generation of aircraft: aircraft that introduce sustainable regional hydrogen-powered air mobility, meeting the demands of modern transport and the new ecological values of customers, pilots and passengers.
The desire to perpetuate this vision of modernity and to integrate energy efficiency to serve the environment led to the design of Alérion M1h.
The first of the Avions Mauboussin range, designed with the Université de Technologie de Belfort-Montbéliard (UTBM) and industrial partners, Alérion M1h is a light tandem two-seater with low wings, hybrid drive, fast and aerodynamic, for the pilot-owner and on-demand mobility market.
The powerplant will initially be hybrid (electric/thermal), with a total power of 80 kW (about 110 hp). This will enable short takeoff and landing in electric mode while cruising will be in combustion mode (250 km/h) with a range of several hundred kilometres (able to fly from Belfort to Toulouse in 02h30, for example). This will lead to reduced noise and inconveniences.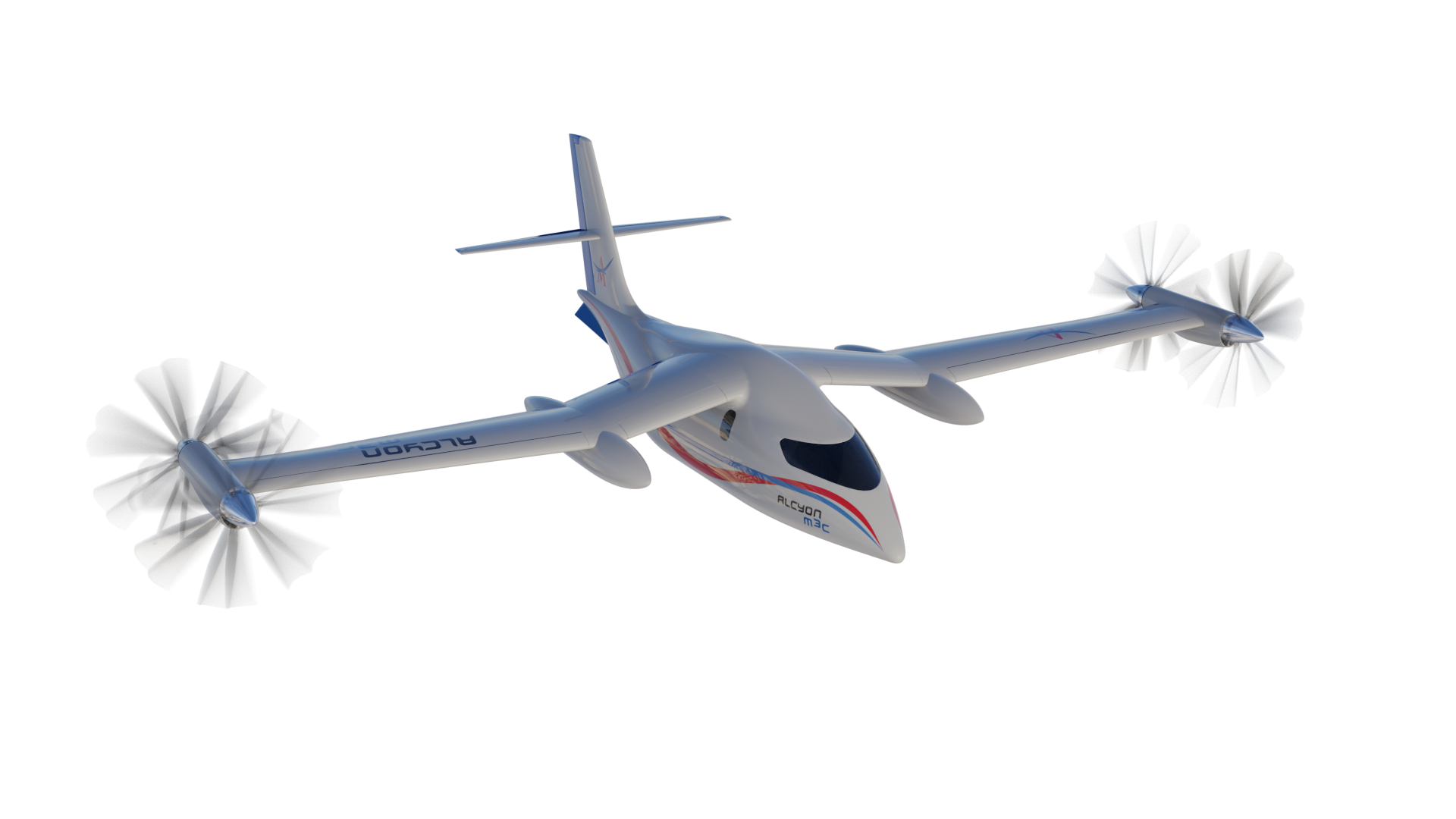 Subsequently, a hydrogen-powered turbine will enable the electric engine to function, and will therefore completely eliminate harmful emissions and the use of fossil fuels (already greatly reduced with the electric drive).
The first flight is planned for 2022 in the hybrid version and for 2024 in the hydrogen version. Commercialization of the aircraft is scheduled for the end of 2024. This aircraft will validate the technologies transferable to the next model, Alcyon M3c, and should be quickly available on the general aviation market with a sustainable/ecological offer
About Avions Mauboussin
Avions Mauboussin is an aircraft manufacturer set up in 2011 by David Gallezot, an engineer from Ecole Polytechnique and Supaéro, a private pilot and collector of vintage aircraft. Established in Belfort in 2017, Avions Mauboussin is developing the next generation of innovative aircraft allowing inter-city and eco-sustainable air mobility. Two industrial programmes are underway: Alérion M1h, a two-seater hydrogen hybrid, and Alcyon M3c, a 6-seater hydrogen hybrid aircraft, both with short takeoff and landing (STOL – Short Takeoff and Landing). These sustainable high-performance aircraft are part of a global CSR approach.
Read the most up to date Fuel Cell and Hydrogen Industry news at FuelCellsWorks